Front Lighted Mirror with Frosted Vertical Edges on Left and Right Sides
Product No.:2020927143631
Front Lighted Mirror with Frosted Vertical Edges on Left and Right Sides
Features:
1) Fog-free surface in which the fog disappears 20 seconds after turning the lights. Square of rectangular shape, with frosted glass framing the mirror on all four sides
2) Silver-coated and copper-free 3/16" (5mm) thick mirror which resists acid and moisture, improving longevity
3) The integrated LED strips (lamps) have a power wattage of 26W and a maximum output of 1200 Lumens, which is very bright. These LED strips (lamps) emit a color temperature of 4000 K, which is a cool white color that is not harsh to the eyes, and have a long 50000 hours lifespan
4) Standard wall switch is for turning the lights ON/OFF whenever you need to use the lighting on the mirror. Touch switch and sensor switch are also available as per request.
5) UL listed electronic parts that are covered by aluminum housing (chassis)
6) A Color Rendering Index (CRI) over 80 gives you a realistic view of color and makes it highly useful as a bath vanity mirror
7) IP44 rated waterproof LED light strip (lamps)
8) Mirrors come with mounting hardware and screws that make the installation process easy. Hardwiring to the AC supply or plugging the cord to the wall socket and the mirror is ready for use.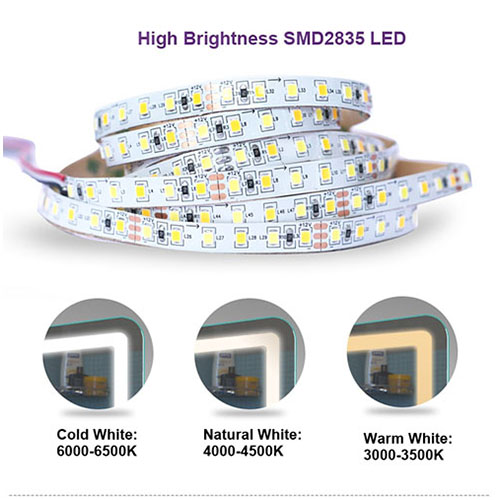 Hospitality Grade LED Backlit Electric Vanity Mirror in Hotel Bathroom

Electric mirror is also referred to LED backlit mirror, LED lighting mirror and more in the market and hospitality industry. It is used for both hotel new construciton and renovation, and give the modern appearance and taste of the bathroom. The lodging industry in US and Canada is competitive, hotel developer, hotel owner and hotelier want to keep their hotel properties in brand new to attract more loyal visitors. LED backlit mirror is such chosen by most franchise hotel brands including Marriott, Hilton, Wyndham, Choice Hotel and IHG etc.

The electric mirror is constructed with 5mm silver corrosion-ressistant mirror, and supported by anodized aluminum frame for light-weighted hanging durability. The lighting source is usually 4500K natural daylight, and other options of 3000K warm light and 6000K cool light are also available to choose from. The bathroom fixture requires moisture resistance, and our LED lighting mirror is IP44 water repellent rate to pass the hospitality requirement. The LED lighting strip has life span of 50,000 hours and have 5 years commercial guarantee. The lighting style can be front lighted or wall glowing to create different lighting effect for the mirror. And the mirror can have versatile options of sandblasted style to meet the requirement of hotel design standard. The power supply can be plug-in or hardwired for the convenience of installer. And the CRI (Color Rendering Index) of the electric mirror is greater than or equal to 90 to have real visual and makeup effect and purpose. The mounting hardware of keyhole or metal cleat is available for easy and steady mirror installation.
For years, we have supplied our LED lighted mirror to many hotels such as Hampton Inn and Suites, Hilton Garden Inn, Holiday Inn Express, Residence Inn, SpringHill Suites, Hawthorn Suites and Mainstay, Sleep Inn, Days Inn, Super 8 and more to work. We have in hospitality industry years and know how to supply the bathroom fixtures of electric mirror, as well as bath vanites and glass shower door and enclosure for hotel construction and design firm, FFE purchasing company, hotel developer and hotel management companies. Give us a chance to inquiry and we are confident to give you the quality hospitality grade LED lighting mirror and delivery to your hotel jobsite and warehouse with competitive price.
Contact Us
Mobile: +86-18750258798

E-mail: [email protected]

QQ: 2871883861

Add: Unit 825-827 Kaisheng International Hailian District Shuitou Town Nanan Quanzhou City Fujian Province China