Side Lighted LED Backlit Bath Vanity Mirror
Front Lighted LED Backlit Bath Vanity Mirror
LED backlit bath vanity mirror is simply normal mirrors that have been fitted with LED strips for illumination purpose
Dimension:
24 inches option: width 24", height 36", depth 2"
36 inches option: width 36", height 36", depth 2"
48 inches option: width 48", height 36", depth 2"
48 inches option: width 48", height 48", depth 2"
Features:
1) Fog-free surface in which the fog disappears 20 seconds after turning the lights. Square or rectangular shape, with frosted glass framing the mirror on all four sides
2) Silver-coated and copper-free 3/16" (5mm) thick mirror which resists acid and moisture, improving longevity
3) The integrated LED strips (lamps) have a power wattage of 26W and a maximum output of 1200 Lumens, which is very bright. These LED strips (lamps) emit a color temperature of 4000 K, which is a cool white color that is not harsh to the eyes, and have a long 50000 hours lifespan
4) Standard wall switch is for turning the lights ON/OFF whenever you need to use the lighting on the mirror. Touch switch and sensor switch are also available as per request.
5) UL listed electronic parts that are covered by aluminum housing (chassis)
6) A Color Rendering Index (CRI) over 80 gives you a realistic view of color and makes it highly useful as a bath vanity mirror
7) IP44 rated waterproof LED light strip (lamps)
8) Mirrors come with mounting hardware and screws that make the installation process easy. Hardwiring to the AC supply or plugging the cord to the wall socket and the mirror is ready for use.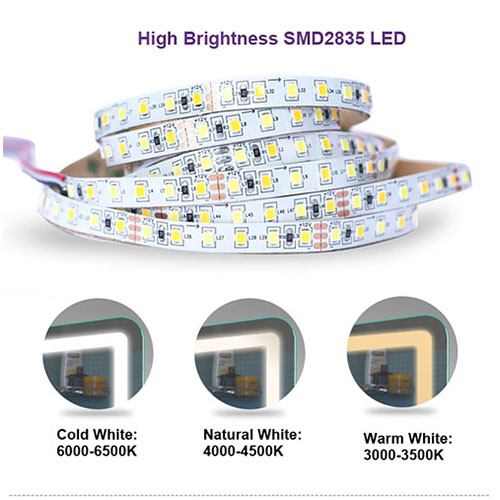 Contact Us
Mobile: +86-18750258798

E-mail: [email protected]

QQ: 2871883861

Add: Unit 825-827 Kaisheng International Hailian District Shuitou Town Nanan Quanzhou City Fujian Province China