How to Install Lighted Bath Vanity Mirror
How to install vanity mirror with backlit LED lighting
It is important to hire a qualified technician or electrician to install your vanity lighted mirror. Turn off the elecricity at circuit breaker box before the installation starts. Failure to do so may cause serious injury or death.
Keep in mind to mount the vanity lighted mirror with the correct width x height orientation by finding the leveling keyhole locating at the top center of the chassis. Determine the required and approximate location on the wall and make marking. Use drill bit to drill pilot holes according to the marked location.
Push the white plastic anchors into the pilot holes by hammer gently until they are flush with the wall surface. Then place the screw into the plastic anchor about 1/3 of the way, leaving approximately 1" of the screw to remain showing.
Connect white wire from the backside of mirror to white wire from outlet box by connector, connect black wire from the backside of mirror to black wire from outlet box by connector. Lastly connect bare/green ground wire from outlet box to bare ground wire from the mirror by connector. Warning: DO NOT connect ground wire to white or black power supply wire.
Each connector will be wrapped by electrical tape then push them gently and slowly into the outlet box.

Finally hang and fix the mirror using the keyhole or slot on the backside to the screw on the wall. Now you are ready to enjoy the vanity mirror with Backlit LED lighting.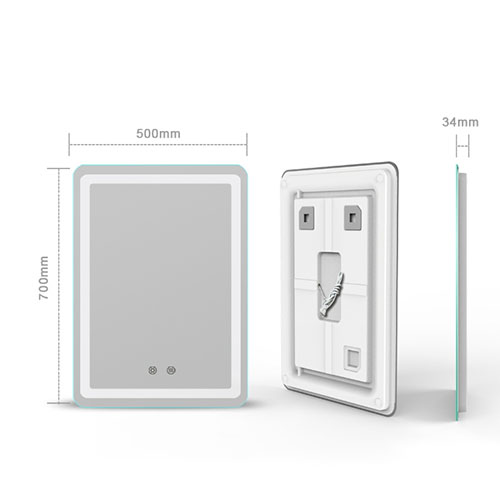 Products Category
Contact Us
Mobile: +86-18259518319

E-mail: [email protected]

QQ: 2871883861

Add: Unit 825-827 Kaisheng International Hailian District Shuitou Town Nanan Quanzhou City Fujian Province China