The Hilton Quebec unveils an early peek at its renovation
Hilton Quebec has released an early reveal of its new $70 million renovation, which includes contemporary public areas, restaurants, event spaces and re-imagined guest rooms.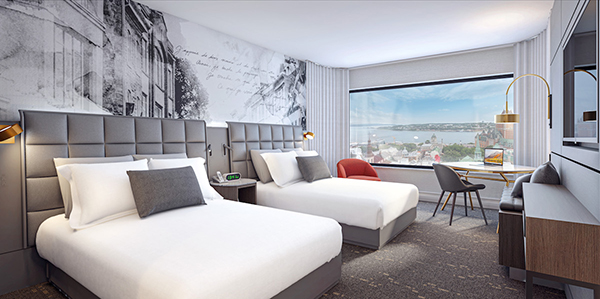 This renovation represents the most significant investment the property has experienced as confirmed by the hotel owner, the Canadian company Innvest Hotels. "It is with great excitement that we are rapidly approaching the re-opening of property, our investment in the Hilton Quebec highlights our continued support of this amazing hotel, their team and our confidence in the Quebec City market" says James Wolfe, Vice President Asset Management of InnVest Hotels.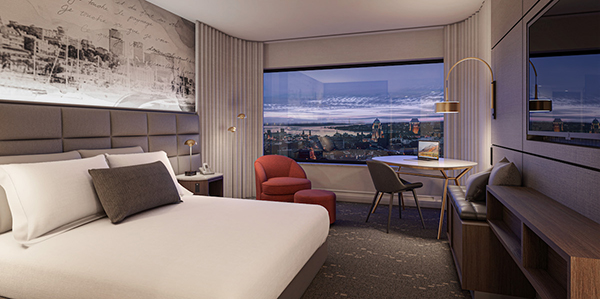 "We look forward to reopening our doors and welcoming back guests, our team members and the community," said Jean-François Lincourt, General Manager of the Hilton Quebec. "Inspired by the beautiful city of Quebec, our guest rooms and public spaces are designed to perfectly meet the needs of today's traveler, while offering an authentic Quebec local experience ."
The Hilton Quebec is one of the pre-eminent hotels in Quebec City and will welcome guests in January 2021. Guests will enjoy rooms with a modern, elegant and warm look, showcasing one of the property's main assets: its views of Old Quebec, the Plaines of Abraham, the St-Lawrence river and the Laurentian mountains.

The building's infrastructure is undergoing a major makeover, including the exterior cladding that changes from concrete to a lighter and more durable aluminum. A prominent figure in the Quebec City landscape, the hotel will keep the same exterior appearance.

The lobby, restaurant and ballroom are also undergoing a renovation that will give visitors and business delegates an impression of grandeur, warmth and authenticity. Renowned chef Simon Renaud, continues to lead the property's food and beverage team and is cooking up a completely new culinary experience featuring the richness of the local terroir and its seasons.

Guests will have peace of mind when visiting the property with Hilton's new program, Hilton CleanStay, which delivers an industry-leading standard of cleanliness and disinfection in Hilton properties.
New standards for Hilton CleanStay include a Hilton CleanStay Room Seal to indicate that a room has not been accessed since being thoroughly cleaned and disinfected, "knock and go" dropped-off room service, contactless check-in, extra disinfection on the most frequently touched spots in-room, and flexible housekeeping options.


For more info: https://www.canadianinteriors.com/2020/09/18/the-hilton-quebec-renovation/


Latest News
Contact Us
Mobile: +86-18750258798

E-mail: [email protected]

QQ: 2871883861

Add: Unit 825-827 Kaisheng International Hailian District Shuitou Town Nanan Quanzhou City Fujian Province China